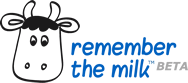 Yet another free online service in Beta:
Remember The Milk
. Its a way for you to maintain a to-do list online and have it remind you via email, text message to your cell phone, via your IM software, etc.
Doesn't do a lot for me as I've got a Blackberry and use Outlook, but for those of you without either this could be pretty helpful.